The name of this article "what is a live casino?" is maybe not the right question we should be asking here. Afterall, if you made it to this page then you probably have a reasonable idea about what a live casino is so perhaps a better question would be "what's so good about a live casino?" or "what don't I know about a live casino?" as these are really what we suspect people are here for. Well worry not for no matter which of the three questions it is you want the answer to we'll be able to give it to you so read ahead and get ready to learn about the fantastic world of live casinos!
What is a Live Casino Site?
The first thing we'll tell you about live casinos is their popularity has only really exploded in the last few years and that's largely due to the advancements that have come from the livestreaming industry. Back in the day lag was a bit of an issue as was audio sync…..and don't even get us started on the game selection where players had the choice between classic Blackjack or classic Blackjack or even classic Blackjack. Suffice to say there wasn't a lot to write home about however all that's changed for the better now and we aren't just writing home about it we're also writing to all you about it as well!


The graphics available in live casinos are fully HD and you'll probably even find some with 4k resolution and there's even about to be virtual reality live casino games coming in the near future too – so we reckon you'll probably be pretty blown away by the looks of a live casino. Not only that but unless you suffer with ridiculously poor internet you won't run into any lag with these games either. What this largely means is live casinos are now able to offer players the same sights and sounds of an actual casino without any of the drawbacks!
The main drawback any land based casino will have is it's more often than not a bit of hassle to get to. Not only that but it can actually eat up a lot of your time every week, month, and certainly every year in the process. This isn't the case with live casinos as where you play is through either your mobile, tablet, laptop, or PC so this means you have the choice of where and when you want to play. And you don't have to choose just one of these options either as when you're at home you can play on your account through your pc/laptop and a big screen while relaxing on the sofa, and while you're out and about with a bit of downtime you can whip out your mobile and play through that instead. So not only are you getting to cut all that travelling time out your life but you're also able to replace those boring downtimes with a bit of exciting action instead!
This should already have you raring to play if we're being honest with you but if it isn't you'll be happy to know there's plenty more advantages similar to this one you get simply from choosing a live casino as your place to play. If you've spent a bit of time at your local casinos you'll probably notice they're crammed full of Blackjack and Roulette tables with the odd sprinkling of a Poker table here and there too. With space being as tight as it is there's nothing exactly wrong with that but if you're getting a bit tired of the same three games then you're not left with much alternative.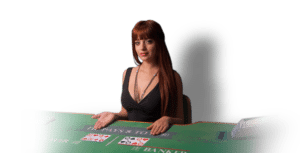 Once again that isn't the case with live casinos though as space has never really been an issue for them largely because they aren't built in city centres. So not only will you be able to play the same games your local casino is able to offer, but you'll also be able to try a whole bunch more as well including a handful of variations of those games, some of the lesser known games such as Baccarat and Craps, and even some of the relatively unknown games like Sic Bo too! Truth be told we love jumping around from game to game at the various live casinos we play at and if you give some of these lesser known games a chance we're sure you will too!
We've probably given you enough reasons for now on why you should play at a live casino and do a little bit more on telling you how you go about playing in them. The good news is that every major online and mobile casino on the planet offers players a live casino section to their site and the fact you can flick between them at a moments notice means you have every game available at your fingertips. So our suggestion for you would be to find a site that's offering up a no deposit bonus and sign up with them first.
The reason for this is a no deposit bonus gives you a chance to play a couple of live casino games and gather your bearings before you put any money of your own onto a site. There's also the added benefit you may walk away a winner before you even start which is pretty cool.

Once you've registered yourself on a site the hard work's all but done and all that's left is you click on the live casino lobby and choose your prefered game to start a live stream of that table. The livestream you'll see has some virtual elements to it which are mainly the chips you'll be using to bet with. To make a bet regardless of which game you're playing you click the chip you want to bet with and then click once again on the betting table where you'd like to place it. You can keep clicking to keep adding more chips to the table and there will be a cancel last bet as well as a cancel all bets if you've placed too many.
This should hopefully have answered most of the questions you have about live casinos namely why they're so good and how to play them! If there's anything else you need to know just take a look at the rest of the articles we've done which will more than likely have what you're looking for!